Al Gurtner hands Ray's Market to new owner
A labor of love for Ray Gurtner – and a later his son, Al – Ray's Market has survived turmoil, fires, and even location changes, moving from Unity to its current location in Colby in 2009.
But the next time you walk into Ray's Market, don't be surprised when you don't see Al slinging sausages and making brats, steaks and ham.
It's been a wild and rewarding ride for one of the premier traditional meat masterminds in Wisconsin, but after 25 years, Al says he's hanging up the apron for good, though he'll always have at least one foot in the door.
"It's not like I'm just going to drop the keys off and say 'Have a nice life,'" Al says with a smile. "I just live across the road, so it isn't like I am very far away."
In fact, pretty much the only thing that will be changing is the ownership. The name, flavors and traditional hand-crafted and homemade way of doing things will continue for many years to come, says Scott Decker, the new owner of Ray's Market, and Al's brother-in-law.
"That's the nice part, that things will continue," Al says. "Scott has a couple kids, and they should be able to help him out down the road."
Decker has been an avid hunter and outdoorsman for years, and he's always been one to cook, cut, marinate, smoke and make his own meats.
"We always did meat growing up," he said. "We cut our own meat, raised our own beef and cut our own beef all the time. We raised pigs, and then we made all our own venison sausage as a family."
Of course, this is a bit different from just making meat for the family. Taking over Ray's represents his first foray into the business side of the things, and it's a big departure from his time at Bob's Dairy or the sawmill in Dorchester.
But, as Al points out, Scott isn't coming into this venture green as grass. If you've purchased any of Ray's meats in the last year, and if the scents and aromas and flavors have been as great as they've always been these last five decades, Al says that's because Scott has already been involved in the day-to-day operation for quite some time already.
"Scott has been making all the sausage for the past year," he said. "I want people to be aware of that. I don't want people to suddenly say 'Al's out and now this new guy is here, let's see how good the sausage is.'"
"It's already been going on for the past year, and that's very important for me to get across to people, that they're still getting the same quality they've been used to. Nothing is going to change."
It's a bittersweet farewell for Al, as he leaves behind cherished memories, but as the years have gone by, after he hit his 25th anniversary with the business, he knew he needed to start thinking about his future – and that of Ray's Market.
"I talked about maybe selling the place because I have no one to pass it down to," Al said. "Connie had mentioned to give Scott a call, and that maybe he would be interested in doing this. For myself, I've done it for 25 years now every day. It's been a lot of fun, but I just felt it was time to move on and try other things too."
And once Scott got the OK from his wife Michelle, he began to slowly learn the ins and outs of the meat-making business from Al.
"That's what we've done the past year, is just show him how it's done, and let him do it," Al said. "And then I'm here to answer questions."
Moving forward, Al said it's up to Scott to continue the tradition of Ray's, to leave his mark on the establishment, and to add more ribbons to Ray's already crowded trophy case.
"That will be Scott's deal going forward," Al says. "We've worked together on stuff for this last fair, and we've won three awards at the state fair. We got a second and two thirds, so that's the most we've ever won. That was fun, showing him how to do that stuff, and what it takes to make that."
It's only fitting that in Al's last year, he'll leave with the most awards he's ever won at the Wisconsin State Fair.
"It's a lot of work, but it's fun when you win an award," he said. "The most we've ever won in a year was two, so now we have three. So that's pretty cool."
Scott wants to add his own accolades in the case, but he's in no hurry. He's got bigger matters on his mind, such as learning how to manage his employees, and planning ahead for each season, which has its own set of challenges.
For Al, he can step away from Ray's knowing his family's legacy is in good hands. As he readies for his latest endeavor he shares his thanks with the customers who have made him feel like a part of their families.
"You know, above all, I have to thank the people. You can't have a successful business without customers and people willing to come in, try new things, and keep coming back," Al says as he reminisces on the years. "That's what I'm going to miss the most, is the people and friends you make doing this. None of this would be possible without them. Connie and I are grateful for anyone that's ever come in and enjoyed what we've done here the past 25 years."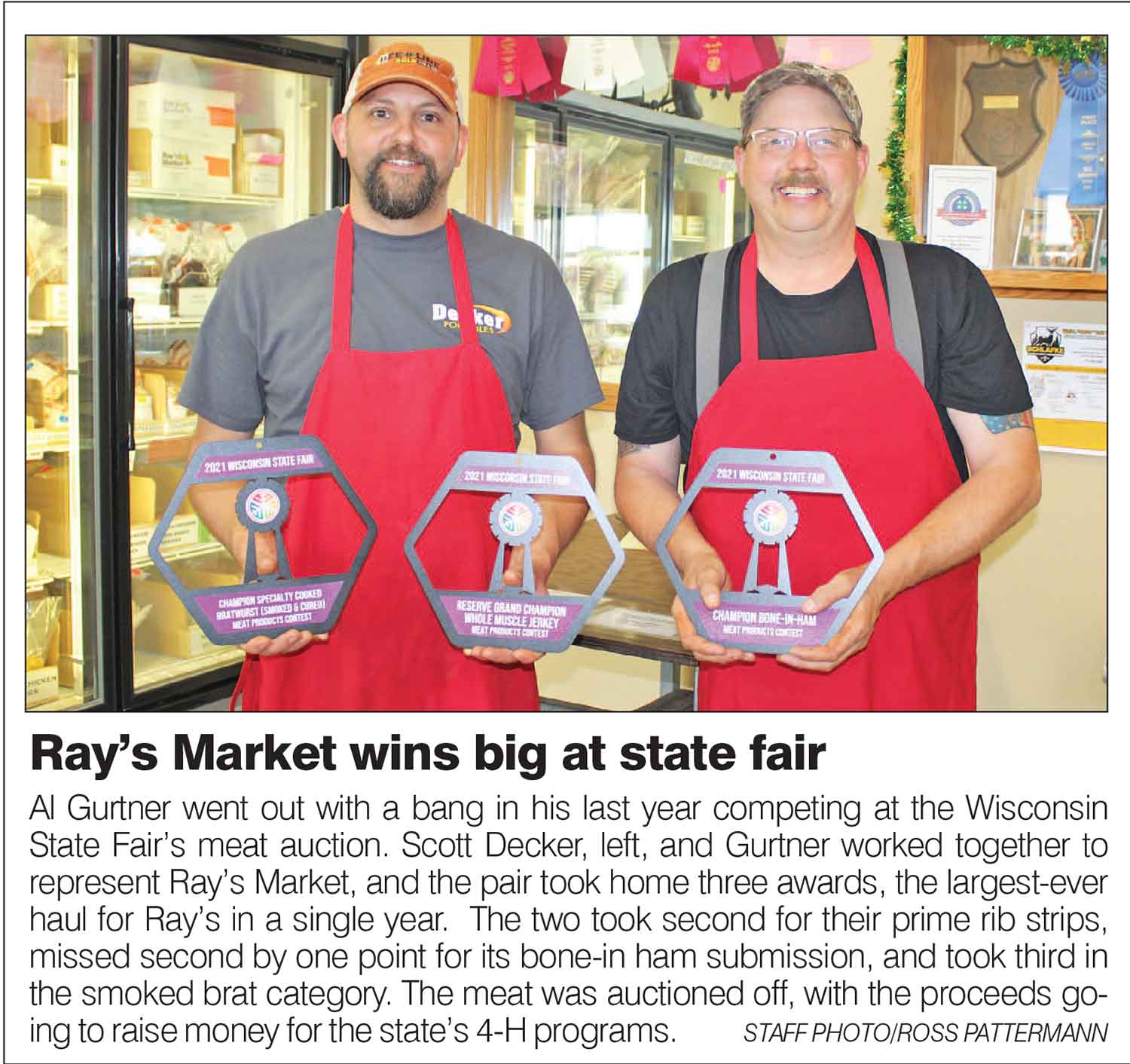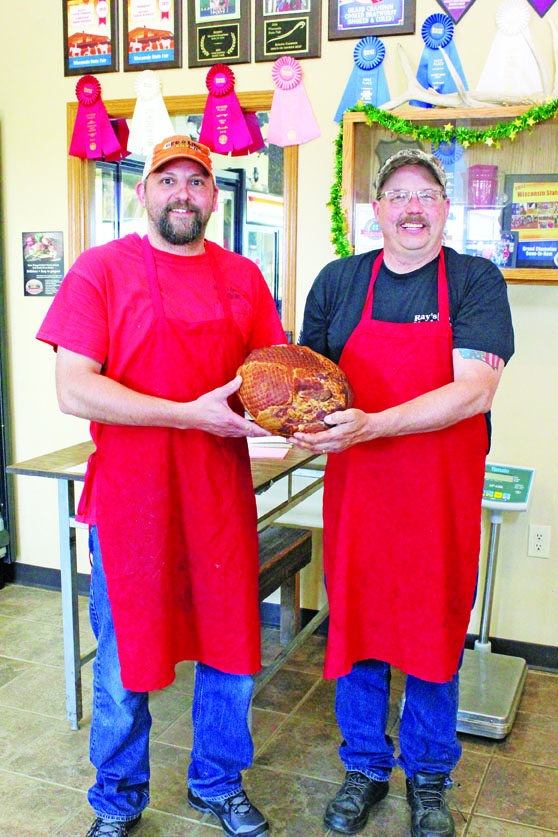 ---
Ray's Market opened for business on January 7, 1971 in Unity, WI. Ray and Janet Gurtner started the business specializing in Old World sausages with recipes brought to America from Switzerland by Ray's Father. The market also carried a full line of groceries. In 1984, they focused on the sausage business. Ray and Janet's son, Alan, grew up stocking shelves and waiting on customers. He began making all of the sausage in 1996. Ray passed away in 2007 and Alan and his family took over ownership of the business at that time. Janet continued to work at the market until her retirement in 2019.
Ray's Market is currently located in Colby on Elderberry Road and is a specialty store which carries a large selection of specialty meats, cheese and wine. The current building in Colby was constructed in 2009 when a fire destroyed the original location in Unity. The new store continues to produce the same old world style sausages, but also includes many specialty items and has become a tourist stop. In addition to exceptional sausage, the new location added cheese, wine, European and Wisconsin products, candy and novelty items.
Even though there is a new location in Colby, the history shows through at Ray's Market. The products are still produced from the original recipes and the building showcases many historical photos showing our journey. Many of the products produced today have won awards at the Wisconsin State Fair and Wisconsin Association of Meat Producers show. We are most proud of our award winning smoked ham which took the Grand Champion and Best of Show. Ray's Market has experienced many changes throughout the years, but continues to provide an old world taste to our customers.
---